When you think of vending machines, you probably are trying to think about the last time you actually used a vending machine- let alone saw one. But the old and clunky change-only vending machines you're used to seeing in the past that might dispense some dusty bulk candy or a dirty gumball, or the machines that "accept" dollar bills that you can't get to actually take your dollar for some reason… those machines are, quite literally, relics from a bygone era and are largely not utilized by the most advanced vending machine operators in 2023. Any of those older generation machines that are viable are being refurbished, and those that are what we call "MDB Capable," meaning they can be upgraded to operate with credit card readers… well, you guessed it, they're being upgraded to take credit cards and mobile payments- or they're being sent to the junkyard essentially.
Now, times are changing and vending machines are actually having a vast resurgence- becoming more popular, more efficient, and more technologically advanced than ever before- giving vending machines a whole new ability to thrive in today's culture of automation and speed. Machines in 2023 that are operated by professional vendors should be enabled to take credit cards, mobile payments, and- if the company is really wanting to offer all options- new machines will still be outfitted to accept change and dollar bills as well because it's important to have that option available for those that prefer those payment methods over card or mobile.
Of course, no matter what you're vending or how the machine is operated, the root concept of a vending machine automatically dispensing an item to a customer once they pay- this is pretty hard to change fundamentally- but the styles and features of today's new vending machines make the units of today very compelling and visually appealing for many reasons.
Some of the bigger vending machine manufacturers include Dixie-Narco, Royal Vendors, USI/Wittern, and Seaga, are among the companies leading the way with manufacturing the newest vending machine options- and most all of the manufacturers make various models of vending machines nowadays. If you work with a professional vending machine services company, they should manage all machine selection and purchasing for you, and they should own the machine so it's free for your company to install a new vending unit, and good operators will be able to recommend the best options for your specific space.
Now, if you're wondering what some of the more popular types or styles of vending machines are in 2023, keep reading to learn more.
Popular Vending Machine Options In 2023
Drink Vending Machines
When you think about vending machines, you might think of an old-school coin operated vending machine dispensing an ice-cold can or glass bottle of cola. Well, that old nostalgic feeling we all love is still alive and better than ever with the drink vending machines being offered in 2023.
Because people love cold drinks and love being able to get their favorite cold beverages conveniently, it's no surprise that drink vending machines are still one of the most popular vending machine types across the world. Unless humans stop needing hydration and stop consuming their favorite beverages routinely, expect cold drink vending machines to remain a top vending machine option for the foreseeable future.
Thirsty yet?
Snack Food & Candy Vending Machines
A bag of your favorite crunchy, salty, delicious potato chips, or a bar of your favorite chocolate- those things can be hard to resist anyway. Now, when they're inches away from you all shining brightly from a single vending machine… it's just about impossible to deny yourself the indulgence.
Considering people's penchant for snacks and candy, it should come as no surprise that snack and candy vending machines continue to dominate the vending landscape across the world.
While people's tastes may change slightly from place to place, one thing that remains fairly consistent is that plenty of people still want to indulge in a quick guilty pleasure from time-to-time- and vending machines are a great way to make this happen. While items from a vending machine may not be as vast as the selection of an entire grocery store, a savvy vending machine operator will have a variety of choices stocked regularly that caters to most every part of the spectrum from health to indulgence and everything in between. If you want a healthy protein bar, maybe you can get that from a vending machine… but you also can probably find some of your favorite chips and candy as well.
With further capabilities and capacities anticipated going forward, it's hard to imagine a scenario where Snack and Candy Vending Machines don't exist for years to come.
Combination (Snack/Candy/Drinks/Essentials/Fresh Food) Vending Machines
Combination vending machines are a relatively newer innovation relative to the vending machine itself, but these units have really started to become more popular in 2023 for several reasons.
First off, they can condense essentially 2 vending machines into 1 unit- bringing snacks/candy and drinks into 1 machine- meaning you can use less space per machine and also there's a high likelihood you may be able to consume slightly less power than what 2 vending machines would require.
Secondly, combination vending machines are becoming widely regarded for their ability to diversify vending operations, by combining any number and any types of suitably sized items together into one storefront for buyers to select from. For example, you can sell cold drinks, snacks and candy, and even any other types of items such as essentials for example. There are even various types of combination machines configured to allow for the vending of fresh food, like sandwiches.
Some vendors prefer combo machines just like some people like everything being in one machine, whereas some vendors still prefer individual units because some people don't like too many choices in one machine. Other vending machine operators also complain that there are not large enough capacities for certain options in most combination vending machines currently manufactured, however that may change as time progresses. But, for those that do like what combo machines can offer, combination vending machines are tough to beat when it comes to their positive features.
Expect to see a rise of combination vending machines over the next year as more operators start to phase out older units in favor of the more cost-effective combo units. Who knows, maybe you've used a combo machine or will do so soon?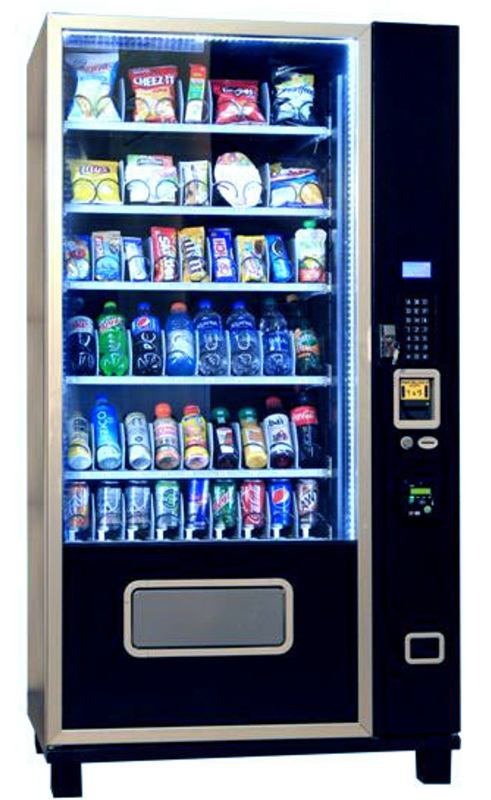 Now that you know more about some of the more popular types of vending machines being used in 2023, you may consider yourself a bit of an expert on the topic. Again, while this is just a fraction of the types of vending machines that are being used in 2023, this article covers some of the most popular machine types you may want to be familiar with.
Before learning more about the most popular types of vending machines that are made presently, some people may not realize the wide variety of selections available or the many benefits to installing vending machines in your business space, particularly if you are able to have a vending machine service company stock, maintain, and actually own the machine for you- like what FlowerFieldz Vending Machine Services offers to clients.
Now that you know about some of the more popular types of vending machines being used, you may be considering a machine for your space. That said- you may also want to know that one of the many benefits of vending machines is that it typically takes a relatively small amount of space to install vending machines in a location and it also can help create revenue generation opportunities in spaces which typically were underutilized prior to installation of vending machines. That empty corner you're trying to figure out what to do with- it could be perfect for a few vending machines. Maybe the breakroom or lobby at your building feels like it just needs something to help complete the space? Consider adding vending machines to create a new amenity for users of your space- plus your building will likely be able to receive a percentage of sales from your vending machines as a commission from the owner/operator of the machines also, meaning you gain a new revenue stream for your business and a convenient new method of obtaining your favorite snacks, drinks, and more.
Now that you know more about the most popular types of vending machines in 2023, you can enjoy your snacks and cold drinks with an extra appreciation for the machines that have helped build our culture- both old and new. Feel free to get in touch with FlowerFieldz if getting free new vending machines into your building sounds good to you. Either way, next time you see a vending machine wow yourself with how much you know about the units thanks to what you just read today.
After grabbing a snack and a drink out a vending machine- it's easy to say, "Cheers, until next time, you awesome readers!"